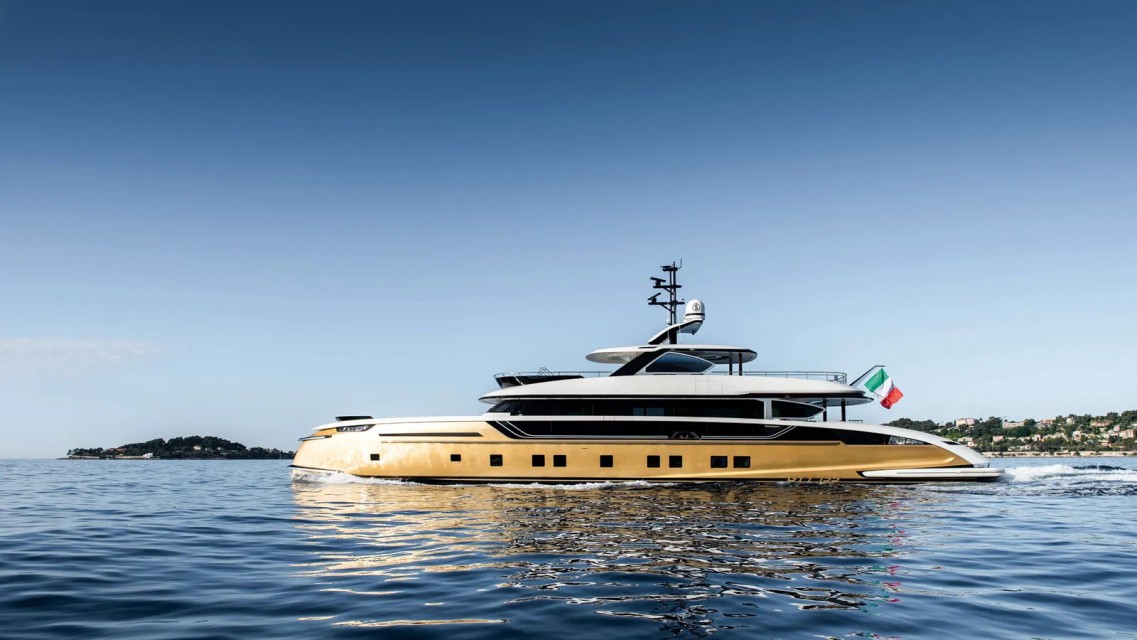 11 July 2021 · Other
Stefania: On board Dynamiq's new 41m golden superyacht
Big, bold and gold –Dynamiq's new 41-metre Stefania is a future-facing superyacht packed with art deco glamour, says Caroline White
Forty-one metres of golden hull, glinting in the summer sunshine: Stefania is a vision of optimism. There has been much speculation about whether our emergence from the Covid-19 pandemic will mirror the end of the devastating influenza pandemic of 1918 to 1919: accelerating that tattered generation smack into the Roaring Twenties. "The parties were bigger; the shows were broader; the buildings were higher," as Nick Carraway concludes in Baz Luhrmann's 2013 adaptation of The Great Gatsby, summing up the "steady golden roar" of Fitzgerald's Jazz Age dreamscape. In just the same spirit, this yacht – delivered at a time of new hope – is exciting, inventive and opulent. It's a yacht for happier times to come.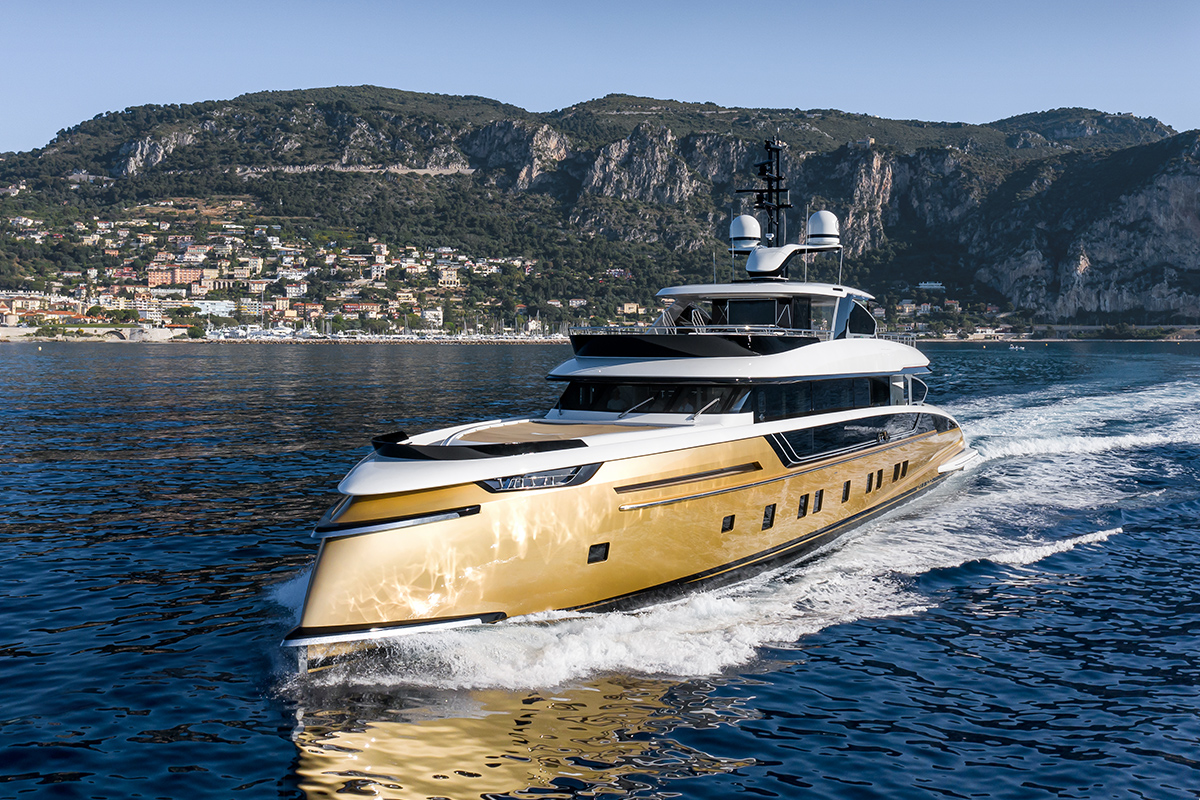 Stefania is the work of Dynamiq, a young builder with an unusually international make-up: the head office is in Monaco; it builds in Massa, Tuscany; and it uses engineers based in the Netherlands. The team includes 14 nationalities. "We are probably the only Italian yard which builds yachts 100 per cent engineered in the Netherlands to the highest North European standards, at the same time keeping the prices at an attractive average level of the yards in Viareggio," says Maria Dobroserdova, Dynamiq sales director, of the diffusion.
It also brings an unorthodox approach to the conservative business of yacht-building. It's brand-savvy, with a list of trusted partners it suggests (but don't insist) clients use when piecing together their onboard lifestyle, from the lamps on their bedside tables (Bentley Home) to the pens on their study desks (Montegrappa). It's playful too. Dynamiq's website, for example, features a "configurator" that allows you to choose every detail of your yacht, from the interior decor and general arrangement to the hull colour and water toys – and to get a price and delivery time. You can almost hear the bosses of Northern Italy's established yards choking on their espressos. But why not? You're unlikely to buy the yacht you designed yourself in 20 minutes, but it's a fun introduction to the process, and one that's now par for the course in the (more future-embracing) luxury car market.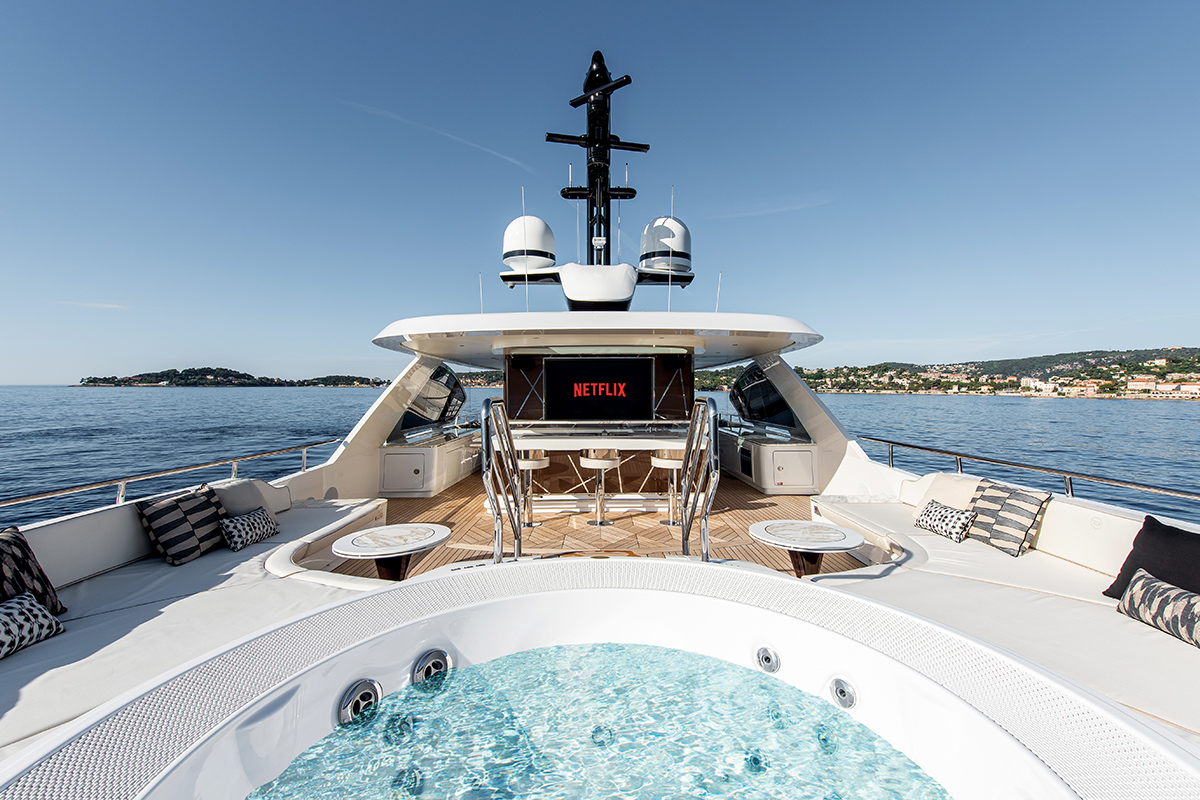 Stefania, however, came about via more traditional means. "The owner had actively been looking for a yacht for more than two years, visiting different boats and attending shows," says Sergei Dobroserdov, Dynamiq founder and head of Dobroserdov Design in Monaco. "When he came on board Spring (ex-Jetsetter), his first reaction after entering the main saloon was: 'Now I've found what I'm looking for. This is the yacht that suits me perfectly.' Then, of course, he came up with lots of individual requests but basically Stefania is a larger and more refined version of Spring."
That yacht was Dynamiq's debut, a 38.6-metre launched amid much fanfare at the 2016 Monaco Yacht Show. She was followed by 35-metre Jaaber (ex-1 of 7) in 2017. All three yachts launched so far, including the new flagship Stefania, are part of Dynamiq's Gran Turismo Transatlantic (GTT) all-aluminium fast displacement series, which Dobroserdov describes as "for more outdoor people who prefer going further and faster" – as opposed to the Global displacement line the yard also offers, where the focus is interior volume.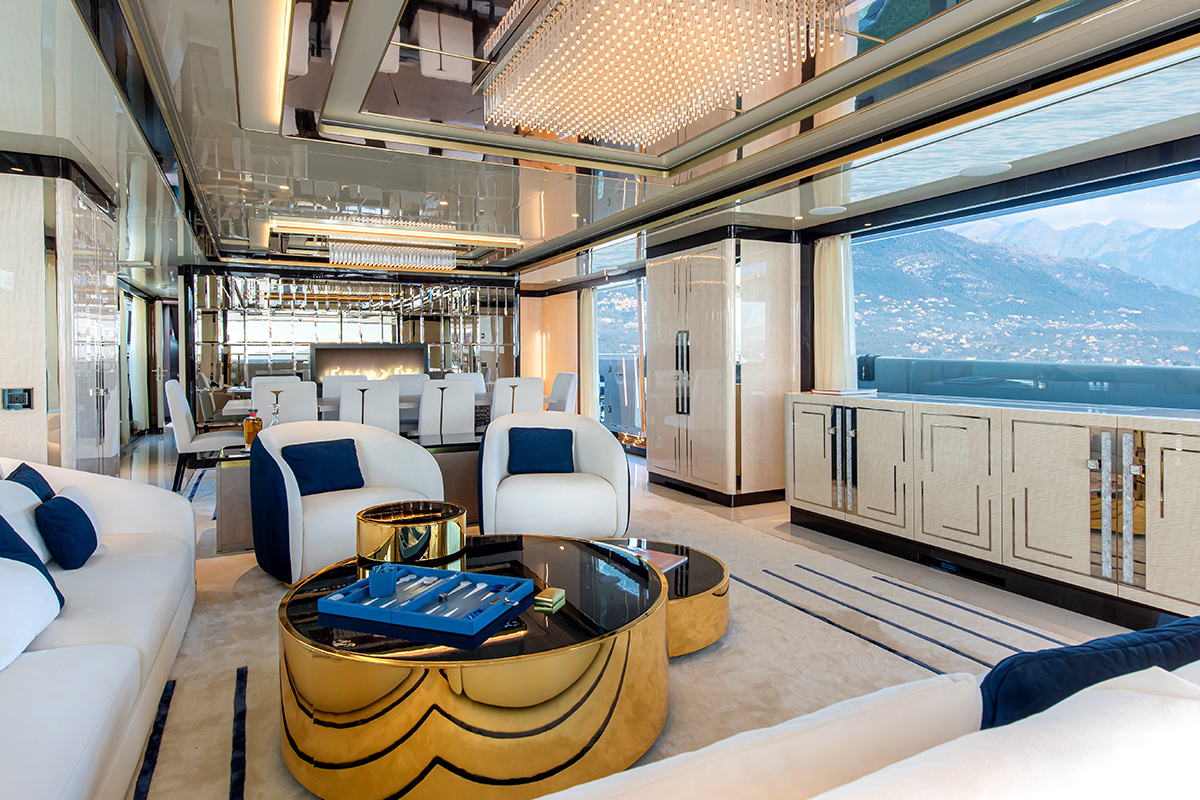 "He was travelling frequently for business and one of his residences is located close to Monaco, so naturally he wants to own a yacht to be able to cruise with his family without any limitations – to enjoy the Med in summer, as well as spending the colder months in the Caribbean or Asia," Dobroserdov says of Stefania's owner.
The design that appealed so much to this owner originated in Dynamiq's in-house studio. "That's what really makes a difference in comparison with many competitors who are all using four or five major design companies and in many cases look pretty much the same," says Dobroserdov. The defining look of the GTT is slender with a low profile, designed to engender a feeling of closeness to the water. In terms of exterior style, he says, "we do believe that 'less is a bore' and introduced many details that make the whole design unique and interesting to discover – have a look at the railings with glass inserts and the transparent flagstaff, which have never been seen on a yacht before."
And that golden hull? The owner asked the yard to look into different paint schemes and they initially considered both white and grey. "The first was considered too straightforward and boring, and grey would be too sporty and jarring," says Dobroserdova, who was the main contact with the owner during construction. They felt the metallic gold from DuPont, paired with a white superstructure, worked with the yacht's lines – and just as importantly, with her interior.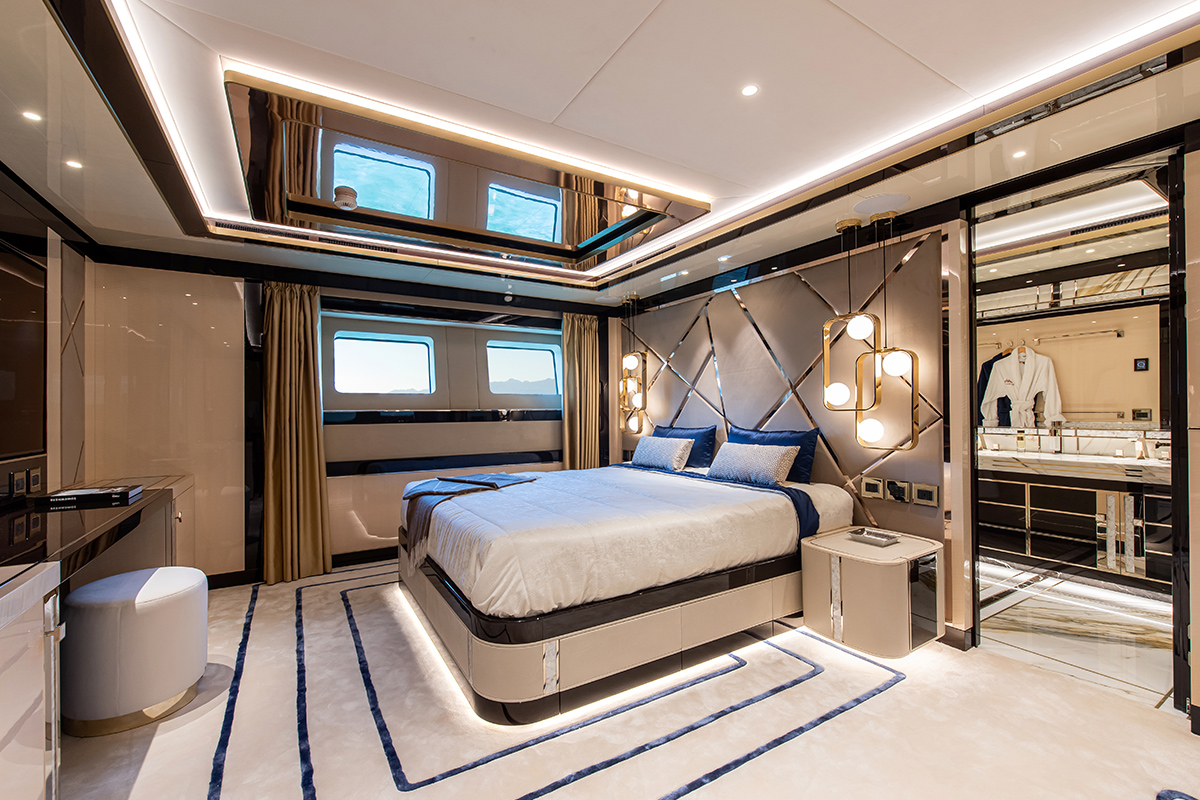 For this aspect of the boat, the owner knew exactly what he wanted: "modern art deco". It is an unusual choice for a sporty yacht of this size, as Dobroserdova notes. "Art deco style – even its contemporary interpretation – is normally used for bigger displacement vessels as it's difficult to fit it in compact spaces and there's a lot of weight behind the rich look." Creating it on a 41-metre required thought. "We had to meticulously control the weight and strength of each component," says Dynamiq's managing director Marco Ramundo. "We started with a very light aluminium construction, taking care to apply the minimum amount of filler possible at the same time as making the perfect golden painted hulland installing the best equipment without increasing the weight and compromising the performance or safety of the yacht."
It also required constant observation and reaction during the project. "It's mainly about picking the right starting points and closely monitoring that throughout the entire build process," says Perry Van Oossanen, who was responsible for Stefania's naval architecture. "So it's not making assumptions but really following up. And if you see that there's a deviation somewhere in the process, you have to recognise this and counteract it."
The owner also had a clear vision on how this decorative theme should be interpreted. "He was very strict about not having '50 shades of…' so all the interior style is based on the same tone of beige with a small amount of dark-brown contrasts," Dobroserdova says. The yard's in-house decorators, more accustomed to creating light modern interiors, worked with designers from Fendi Casa and interior suppliers to find the same tone of beige in lacquered wood panels, suede, velour and marbles – Calacatta Borghini, Calacatta Oro, Noir St Laurent and Lasa. "[Carpet designer] Oliver Treutlein used his smart-scanning technique to have his carpets match the veneer to perfection," says Dobroserdova. "All of the metal inserts have been treated by the same galvanising technique to have the same finish – champagne, or soft gold."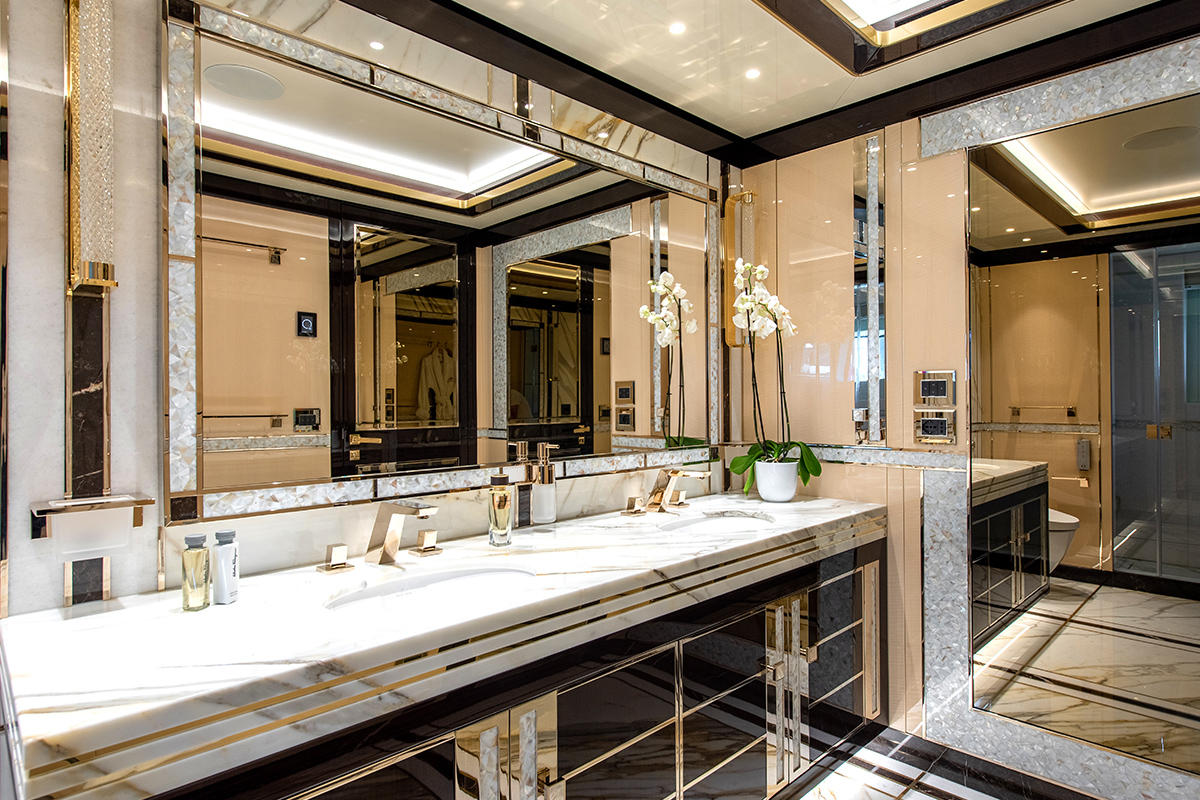 Accenting this neutral palette are touches of serene, oceanic blue in loose furniture and cushions, a shade the owner admired on Spring.
As with the exterior, every detail has been thought through both to fit the lavish concept, and to work on a practical level. Take the main deck floors, which, instead of plain fitted carpet, feature white Lasa marble – with gold inserts – framing hand-tufted Oliver Treutlein carpets. "The stone is heated, and the golden inserts are flat with the surface – so the owner's children's little feet will always be comfortable and safe," says Dobroserdova. Opulent enough for Gatsby, sensible enough for a 21st-century family.
Through all of this, says Dobroserdov, the owner was on hand. "During the three years since we shook hands, he was involved in every small detail; carefully selecting every item including fabrics for exterior cushions (with Sabrina Monte-Carlo) and safe models in the cabins – we used to send each other options and ideas on WhatsApp."
But their areas of consideration extended deep beneath Stefania's glamorous surface. Van Oossanen Naval Architects had worked with Dobroserdov when he was a broker and owner's rep at Heesen Yachts and knew his tastes well. "The philosophy of Dynamiq is very much about building efficient vessels, so they're all long and slender," says Perry van Oossanen. "That was our brief – to design a very efficient and comfortable hull form and to carry that through the naval architecture and engineering package."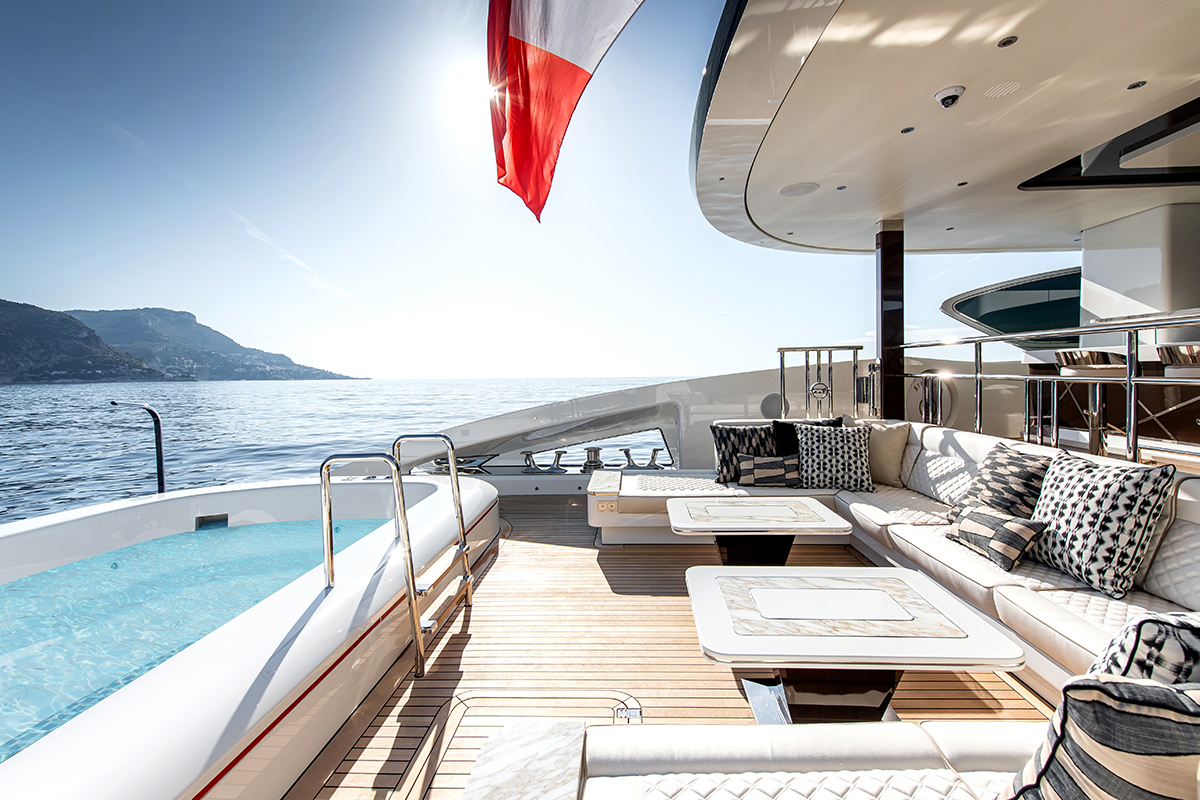 This involved the studio's patented Fast Displacement Hull Form, which is aimed at high efficiency over the entire speed range. "The boat has a maximum speed of over 20 knots, but she's equally efficient cruising at 12 or 14 or 16 knots," says van Oossanen. Stefaniafeatures a long waterline length with a round bilge hull, a low centre of gravity and long roll period, as well as a shallow transom and a reverse bow. "If you have a reverse bow you can get water over the deck, so we spent a lot of time investigating the shape there and working with spray deflectors to keep the deck dry," says van Oossanen. She also features zero-speed fin stabilisers and Van Oossanen's patented Hull Vane: "a hydrofoil mounted at the stern, which basically lifts the stern at speed, which also improves the efficiency."
The approach to the layout was equally efficient. The yacht will be used for charter, so to ease service the crew traffic, pantries, appliances and water toy storage were properly planned from the very beginning. "What I liked in particular among the owner's requests – and this is what we will definitely use on all other projects – is the amount of electrical sockets both in the interior and on open decks, which enables you to charge your mobile or laptop almost everywhere," says Dobroserdov. "Guest cabins are equipped with tasteful contactless leather charging spots."
As the largest in the GTT range, Stefaniahouses five voluminous cabins (Spring has four), including a glamorous full-beam master aft on the lower deck. There was room for generous head heights of 2.2 metres on all decks and a 4.5-tonne, 10-guest swimming pool on the main aft deck – comparable to the proportions you might expect to find on a 60-metre. At the request of the owner, great effort was invested in soundproofing throughout. Equipment such as the Torque Compensation System by Rubber Design means noise levels of about 55dBA when cruising at 20-plus knots (equivalent to a domestic refrigerator, according to Yale University's decibel scale) or 34 to 36dBA at anchor.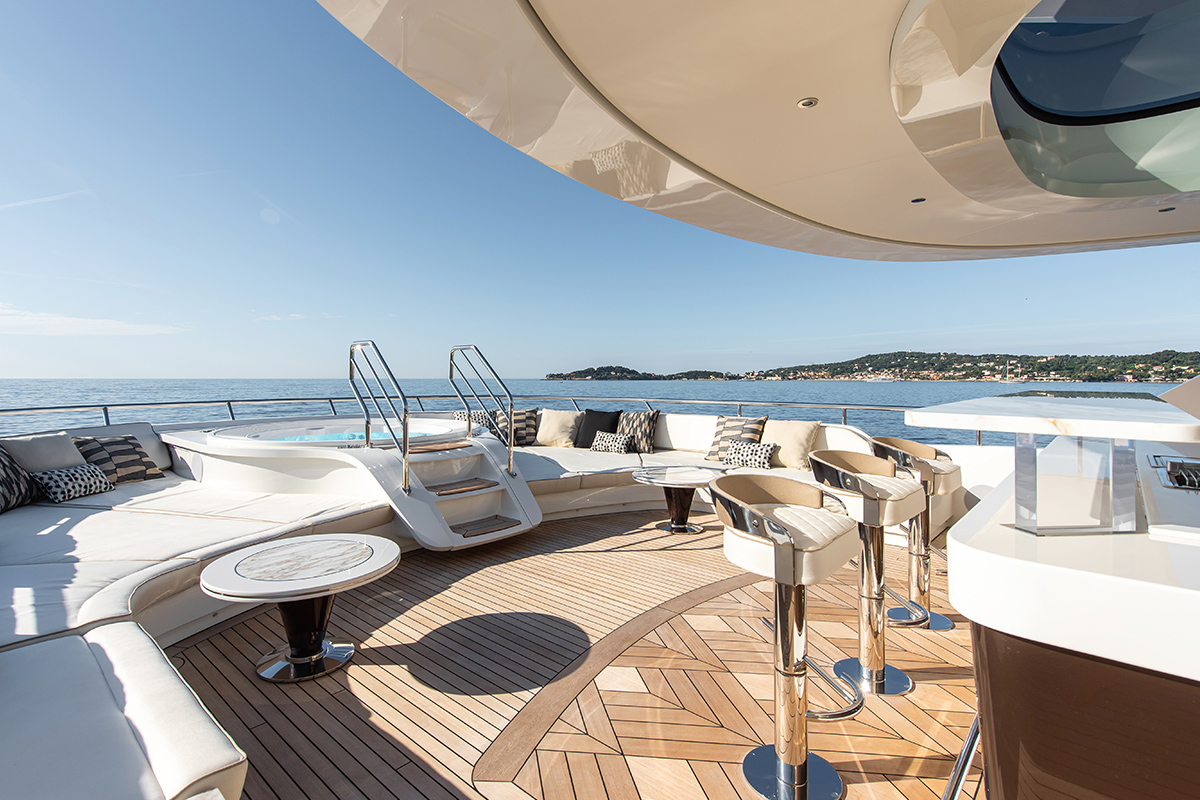 Outside, which is a major focus for the GTT line, there's plenty of living space. That aft deck pool is accompanied by a round of aft-facing seating, creating an outward-looking, self-contained space rather than a stop-off before heading inside. Up top on the 120-square-metre sundeck is a spa pool, a bar with a huge television, a shaded dining table and sunpads. It's an appealing combination of al fresco spaces.
Stefania took two and a half years to construct and Ramundo notes, "more than 300 people and 200,000 hours of labour went into the development and build". Dynamiq estimates the next hull will take only 18 months. Characteristically they're offering this model, the GTT 135, in two versions: the St Barth option, which offers even more open-air spaces, folding bulwarks, an enlarged galley and an interesting main deck dining area that can be open or closed; and the more formal Med version (which Stefania conforms to) with more conventional divisions between spaces, as well as between crew and guests. Whichever option appeals to buyers, it certainly feels like the future is bright for this industry disruptor.
This feature is taken from the August 2021 issue of BOAT International. Special thank you to Caroline White and all BI team.
Other news